March 9, 2016 | Written by GreenSoft Technology, Inc.
Final China RoHS-2 Regulation Published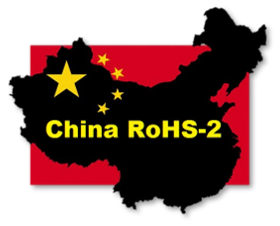 China's Ministry of Industry and Information Technology ("MIIT") has published the long-awaited "China RoHS-2" legislation, formally titled "Management Methods for the Restriction of the Use of Hazardous Substances in Electrical and Electronic Products."
The legislation was published on January 21, 2016, and repeals the former China RoHS-1 legislation published on February 28, 2006.
China RoHS-2 goes into effect on July 1, 2016. It expands the affected product scope among other changes outlined below.
China RoHS-2 Summary
The China RoHS-2 legislation includes the following changes from the original RoHS-1 legislation:
Expands the scope of affected products from electronic information products to electrical and electronic products, defined as "Devices and accessory products with rated working electrical voltages of no more than 1500 volts direct current and 1000 volts alternating current which function by means of current or electromagnetic fields, and generate, transmit and measure such currents and electromagnetic fields."
Excludes power generation, transmission, and distribution equipment.
A detailed list of in-scope products and their associated product-specific substance restriction requirements will be published in a yet-to-be-released Compliance Management Catalog.
Establishes content limit restrictions of the six (6) substances listed below and their compounds, as defined in GBT 26572-2011:
Lead and its compounds;
Mercury and its compounds;
Cadmium and its compounds;
Hexavalent chromium compounds;
Polybrominated biphenyls (PBB);
Polybrominated diphenyl ethers (PBDE).
Establishes labeling requirements indicating the names and contents of harmful or hazardous substances contained within in-scope products and their components, and other information, as defined in SJ/T 11364-2014. (Similar to RoHS-1)
Introduces obligations to comply with all national Chinese packaging material standard conformity and marking requirements, including GBT 16716.1-2008, which limits the lead, cadmium, mercury and hexavalent chromium present in packaging components.
Changes the "compulsory certification" terminology reflected in China RoHS-1 to a potentially more flexible "conformity assessment system" to be implemented by the CNCA and MIIT. No schedule for the development of this catalog has been defined at this time.
Removes the "products manufactured for export" exemption included in China RoHS-1.
It should be noted that the hazardous-substance content limits would not become effective under China RoHS-2 until a specified time following the promulgation of the Compliance Management Catalog.
A full text of the China RoHS-2 legislation is available on the MIIT website in Chinese here. An English translation is available online here from Foley & Lardner LLP.
Companies manufacturing products which were deemed out of scope for the original China RoHS-1 requirements should review the expanded scope of the new legislation to determine if applicability to their products has changed. Products in scope China RoHS-2 are required to meet the marking, disclosure, and packaging substance restriction requirements of the regulation, even if their products have not specifically been listed in the product catalog.
Companies already in compliance with China RoHS-1 marking and disclosure requirements should review their products for potential impact of the inclusion of substance compounds (RoHs-1 only covered discreet substances), and potential impacts associated with the new packaging substance restriction requirements.
What China RoHS-2 Means for GreenSoft Clients
China RoHS-2 goes into effect in July this year. GreenSoft is reviewing the legislation, and affected GreenSoft customers will be notified by their dedicated Project Manager to discuss the changes and implications.
If you're not a GreenSoft customer yet, give us a call at +1-323-254-5961 or email info@greensofttech.com to learn how we can simplify your product compliance process for China RoHS and other regulations.