October 5, 2017 | Written by GreenSoft Technology, Inc.
Draft List of Products Covered by China RoHS-2 Issued

12 Product Categories To Be Covered by China RoHS-2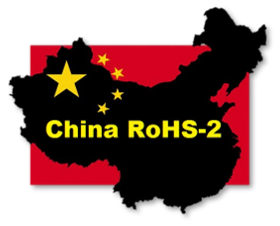 Over the summer, China's Ministry of Industry and Information Technology ("MIIT") released a draft list of products covered by the China RoHS-2 legislation.
There are 12 product categories that are covered by the China RoHS-2 legislation:
Refrigerators
Air conditioners
Washing machines
Electric water heaters
Printers
Photocopiers
Fax machines
Televisions
Monitors
Microcomputers
Mobile communication devices
Telephones
Companies manufacturing products in these categories will need to comply with the RoHS-2 legislation, which we previously explained in blog posts from March 2016 and November 2016. Primarily, companies must comply with content limit restrictions of the 6 substances listed below and their compounds:
Lead and its compounds;
Mercury and its compounds;
Cadmium and its compounds;
Hexavalent chromium compounds;
Polybrominated biphenyls (PBB);
Polybrominated diphenyl ethers (PBDE).
There are some product applications for lead, cadmium, mercury and hexavalent chromium, and other substances in electrical or electronic products that are exempt from the substance restrictions. Products with exemptions will have no limit value for certain uses, a higher limit value for certain uses, and/or a different time frame for compliance.
The official MIIT notification in Chinese can be found online, as well as the draft category list and the exemption list.
Data Services for China RoHS
Environmental compliance regulations for electronic products are complex, and translation issues can make the China RoHS-2 legislation particularly confusing to understand. GreenSoft maintains an office in China, where our data collection team is located, so that we are able to provide global coverage to our clients.
With fluency in multiple languages including Chinese, we are able to help you make sense of the regulations affecting your company. With our Data Services solution, we will contact your suppliers directly to obtain compliance data on your products and components and verify that information for accuracy.
Learn more about GreenSoft's Data Services, and we'll provide you with a free Risk Analysis when you contact us.