GreenData Manager (GDM) Software
Powerful compliance software for data storage, analysis and reporting
GreenData Manager® (GDM) software provides the power that manufacturers need to analyze complex chemical data on their parts and generate regulation-specific reports.
GDM enables manufacturers to manage the collection and storage of compliance data and documents, and perform compliance validation, substance analysis and reporting.
Generate compliance reports on-demand at the company-level, BOM-level, or product-level, and export into multiple formats.
Companywide Substance Database
GreenData Manager software acts as a central storage location for substance data on your products and components, including Full Material Declaration (FMD) data. Easily generate substance analysis and compliance validation reports.
High-Level Compliance Dashboard
Top-level data is rolled up into your personalized compliance dashboard, allowing you to quickly check your compliance status, project status, and other key data all conveniently located on one centralized page.
Scalable Solutions for Every Company Size
GreenData Manager software is customizable to fit businesses of all sizes. From single-desktop users to users accessing a shared database across multiple locations, GreenData Manager can be scaled to your company's needs.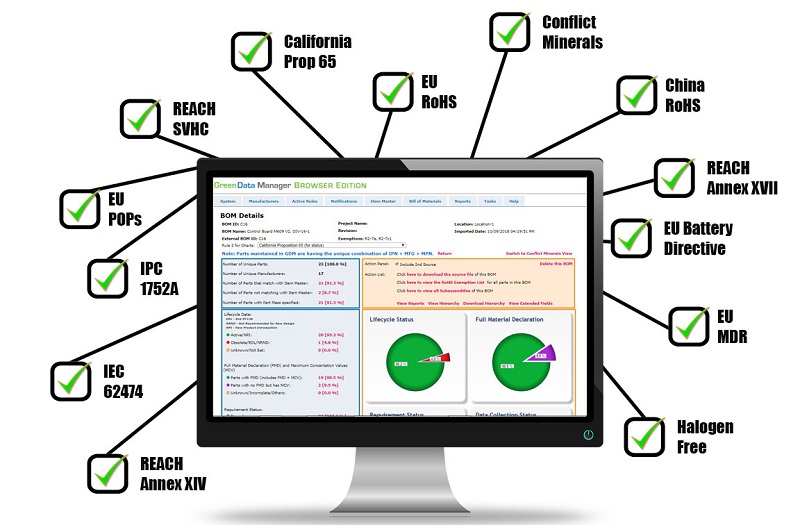 25 Built-in Regulations
GreenData Manager (GDM) software comes with 25 regulations built-in, including EU RoHS, EU REACH, California Proposition 65, TSCA, and others.
Easily check your products against industry standard regulations. Plus, users can create your own custom rules.
GDM software is automatically updated when regulations change, so you'll always be able to check your products against the most updated version of environmental regulations, and can generate updated compliance reports with the click of a button.
Get a free Risk Analysis/BOM Scrub
Contact us today to learn more and schedule a demo, and we'll provide you with a FREE Risk Analysis/BOM Scrub!

User-Friendly Implementation and Automation
Fast implementation and friendly user interface with Auto Data Download and Auto BOM Import for easy compliance management. Plus, GDM seamlessly integrates with your existing PLM or ERP system.
Learn more about PLM/ERP Integration.
Keep Your BOMs Secure
GDM software can be installed behind your company's firewall so BOM-level security is protected per your company's security policy. Or have GreenSoft securely host the software on the cloud.
Learn more about On-Premise GDM and Hosted GDM.
Customizable branding and licensing options
GreenData Manager (GDM) software allows you to generate downloadable compliance statements, which can be customized with your corporate branding to send to customers.
GDM software comes in multiple editions. On-Premise GDM is a license-based software solution, while Hosted GDM is subscription-based cloud software solution.
GDM exports to Excel, IPC-1752, IPC-1752A, IEC 62474, BOMcheck, and other formats. GreenSoft can also generate reports on your behalf for IMDS, eCMA, and ChemSHERPA.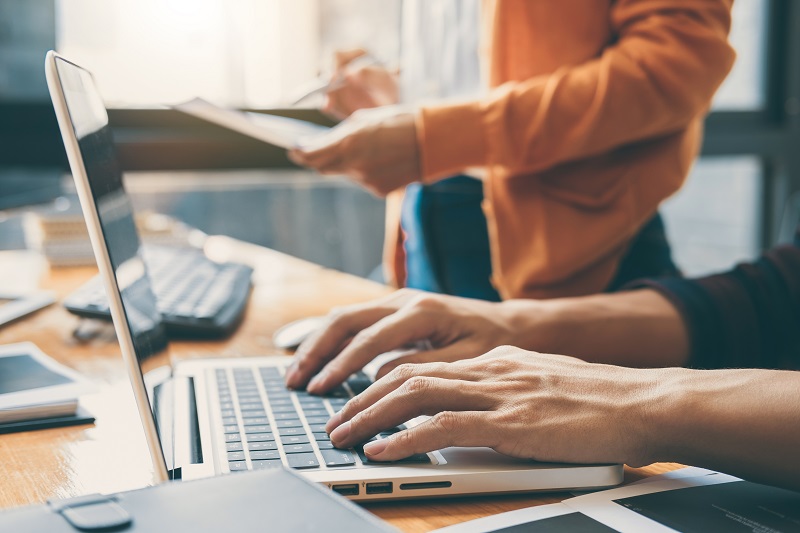 Connect With Us
Contact us today to learn more and get started.
We'll provide you with a free Risk Analysis/BOM Scrub when you contact us.