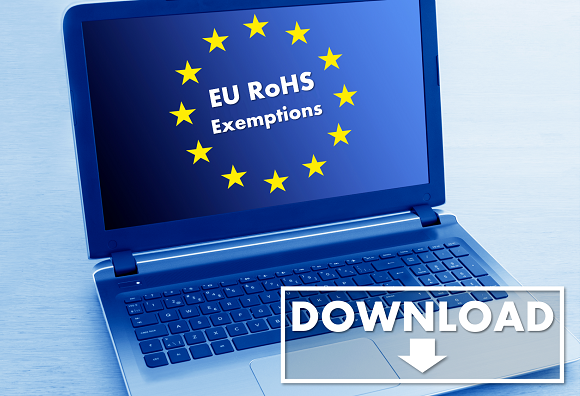 Download the compiled list of EU RoHS Exemptions
Under Annexes III and IV of the EU RoHS Directive, producers of electronic equipment may be permitted to apply exemptions to substance restriction thresholds for certain specific uses and applications.
However, exemptions have varying expiration dates, and when expiration dates near, many exemptions are renewed with updated expiration dates. With the status and timing of exemption extensions unknown, keeping track of the various expiration dates and current exemptions is a time-consuming task.
GreenSoft has compiled a complete exemption list in a single Excel file of all the current valid EU RoHS exemptions for easy reference.
Submit your information below to receive an email containing a downloadable Excel file with the compiled list of the current EU RoHS exemptions.
(Note: GreenSoft customers may also download the EU RoHS Exemptions List directly from the Customer Support Center website.)
EU RoHS Exemptions List download data current as of: February 14, 2023
Submit your information to download the EU RoHS Exemptions List:
GreenSoft Technology, Inc. is not affiliated with the European Commission or any of its affiliates. GreenSoft provides this list as a free reference guide for use by the general public in the electronics manufacturing and compliance industries. GreenSoft is not a legal firm and cannot provide any legal advice or guidance. The information provided here is for reference and informational purposes only, and GreenSoft is not liable for any improper or incorrect use of the information described and/or contained herein and assumes no responsibility for anyone's use of the information.