November 16, 2021 | Written by GreenSoft Technology, Inc.
Watch on Demand: California Proposition 65 Webinar

Access & View New California Prop 65 Webinar Today!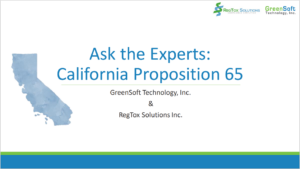 On November 9, GreenSoft Technology and RegTox Solutions hosted an educational webinar on California Proposition 65.
Ask the Experts: California Proposition 65 is now available to view on-demand in our Webinar Archive.
Learn the background of the regulation and how to conduct a compliance analysis on your products. Topics covered in the webinar include:
Warning label requirements
Details on the impact of proposed short-form warning label changes
What data needs to be collected from your supply chain to comply with the requirements?
When is review by at toxicologist required?
Enforcement and penalties – How to avoid multimillion-dollar CA Prop 65 enforcement action settlements
Plus, hear the answers to attendees' questions provided by webinar hosts and regulatory experts Randy Flinders, Compliance Specialist for GreenSoft Technology, and Tom Jonaitis, Founder of RegTox Solutions.
Access the webinar recording in our Webinar Archive.