Ozone Depleting Substances
December 7, 2021 | Written by GreenSoft Technology, Inc.
Why You Don't Hear About the Ozone Layer Anymore

New Released Video Highlights The Success of ODS Regulations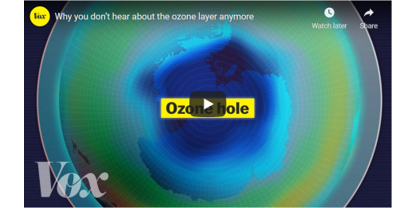 On November 24, Vox Media published a video about the success of the regulation of Ozone Depleting Substances (ODS).
After scientists discovered a hole in the ozone layer in the 1980s, countries across the world united to adopt the Montreal Protocol in 1987, which to date remains the only UN treaty that has ever been ratified by every country on Earth.
In the years after the production and consumption of ODS were regulated, the hole in the ozone stopped growing and has started shrinking. By 2065, the ozone layer is expected to have recovered completely. Given its unprecedented success, the Montreal Protocol is now considered to be one of the most successful environmental agreements of all time.
Watch Vox's short educational video on the Montreal Protocol here.
GreenSoft Technology's data services help companies comply with ODS restrictions
The Montreal Protocol initially controlled Chlorofluorocarbons (CFCs) and other ODS, and was amended in 2007 to include Hydrochlorofluorocarbons (HCFCs). GreenSoft Technology collects data on the presence of these and other chemicals in products and components so that manufacturers can be sure their products are safe and compliant.
As part of our Data Services, we contact your suppliers as many times as it takes to obtain complete and accurate data about the substances in your products, providing you with the data you need to comply with ODS restrictions and other regulations, including RoHS, REACH, SCIP, Conflict Minerals, TSCA, California Proposition 65, EU MDR, and more.
Learn more about our Data Services here.