June 7, 2018 | Written by GreenSoft Technology, Inc.
View the Green Compliance 101 Webinar Recording

"Green Compliance 101: The Basics of Complying with EU REACH, RoHS, Conflict Minerals and more" Now Available to View on Demand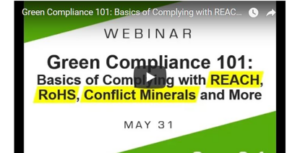 Last week we hosted an educational webinar providing a high-level overview of which environmental product regulations companies are required to comply with and what compliance entails.
Presented by GreenSoft's Senior Manager of Product Support, Randy Flinders, the webinar covered:
EU REACH
EU RoHS
EU POPs
China RoHS
US Conflict Minerals
CA Prop 65
UK MSA Anti-Slavery and Human Trafficking
Viewers from around the globe attended the webinar live, but for those who were unable to attend, you can still view a recording of the webinar anytime online.
Coming Up...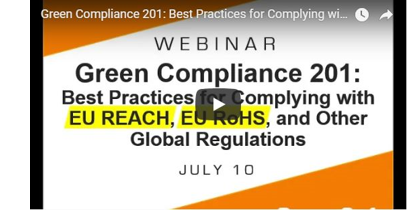 Don't miss our other upcoming webinars on EU REACH, EU RoHS, and other regulations! Next month we'll host part two of last week's webinar: Green Compliance 201. In part two, Randy will provide detailed information on how specifically to comply with the regulations that you learned about in Green Compliance 101. Register online.