July 26, 2016 | Written by GreenSoft Technology, Inc.
White Paper: Solving the Environmental Compliance Data Problem

A new White Paper has been added to our Media Library! Download the paper here.
The Environmental Compliance Data Problem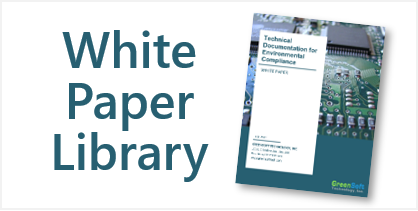 The recent expansion of product environmental regulations such as the European Union's RoHS-2 directive and REACH legislation have placed a heavy burden on manufacturers of electrical and electronic products.
With the incorporation of RoHS compliance requirements into the CE Marking scheme, and the publication of EN 50581 as an official harmonized standard, the due diligence expectations for data collection, validation, management, and documentation faced by companies has never been higher.
The addition of recent scope changes to the REACH legislation, along with the frequency of substance additions to the REACH SVHC list only adds to problem of needing to continuously collect and validate large amounts of complex compliance data.
Solving the Problem with GreenSoft's Data Services
This paper outlines the challenges in data collection and validation facing companies who need to comply with these ever-expanding regulations, and how GreenSoft's data collection service can provide a low cost, high value approach to solving the environmental compliance data problem.
GreenSoft's industry-leading EN 50581 compliant data collection process solves the environmental compliance data problem presented by continuously expanding regulations, offloading the heavy burden of data collection and validation so you can you can focus on what you do best.
Download the white paper and access our full White Paper Library here.
Learn more about GreenSoft's Data Services here, or request information online.