July 28, 2020 | Written by GreenSoft Technology, Inc.
Chemical and Product Regulations Affecting Electronics in Asia

White Papers from the IPC Association on Regulations in China, Japan and South Korea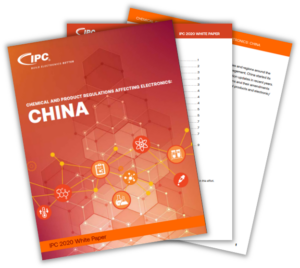 The IPC Association has released three new white papers on the chemical and product regulations affecting electronics in China, Japan, and South Korea.
The white papers are available for download in our White Paper Library.
The papers cover a range of regulatory topics including:
REACH-like and RoHS-like regulations affecting each national market
The history of chemical regulation development in each country
Recent regulatory updates and trends in each country
Information on regional regulations such as CSCL and J-MOSS in Japan, and AREC and CCA in South Korea is included in the white papers, as well as coverage of China RoHS-2, China REACH, Korea RoHS, and K-REACH.
GreenSoft has worked closely with the IPC Association for many years to support and contribute to the development of the IPC 1751, IPC 1752A, IPC 1752B, IPC 1753, and IPC 1754 standards.
Randy Flinders, Compliance Specialist for GreenSoft, has been a contributing member to various IPC standards committees for over a decade, and received a Distinguished Committee Service Award from IPC in 2018.
We are pleased to be able to share these IPC Association white papers with you and host them in our White Paper Library.