October 4, 2018 | Written by GreenSoft Technology, Inc.
Compliance Management Service Provider Comparison White Paper

Get our new white paper comparing compliance service providers versus contract manufacturers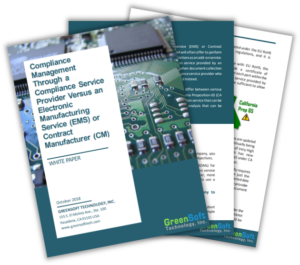 A new informational white paper is available to download in our White Paper Library.
"Compliance Management Through a Compliance Service Provider Versus an Electronic Manufacturing Service (EMS) or Contract Manufacturer (CM)" compares the services provided by third party compliance service providers like GreenSoft with the services provided by EMS or CM companies.
The white paper covers topics including:
Explanation of the compliance document collection service offered by many EMS/CM companies
Explanation of the substance data collection and analysis service offered by compliance service providers
Which option is recommended for various environmental regulations or company goals
The white paper provides recommendations on which service to choose for regulations including EU RoHS, EU REACH, and California Proposition 65.
When you need to pick a service for your small or large compliance projects, this paper can help you make a decision between an EMS/CM company or a compliance service provider, and justify that choice to your company management.
Download the white paper for free in our White Paper Library.