July 8, 2020 | Written by GreenSoft Technology, Inc.
New! eCMA Form Solution for Boston Scientific Suppliers

Plus Full Material Declaration (FMD) Data Processing and Conflict Minerals Reporting Template (CMRT) Collection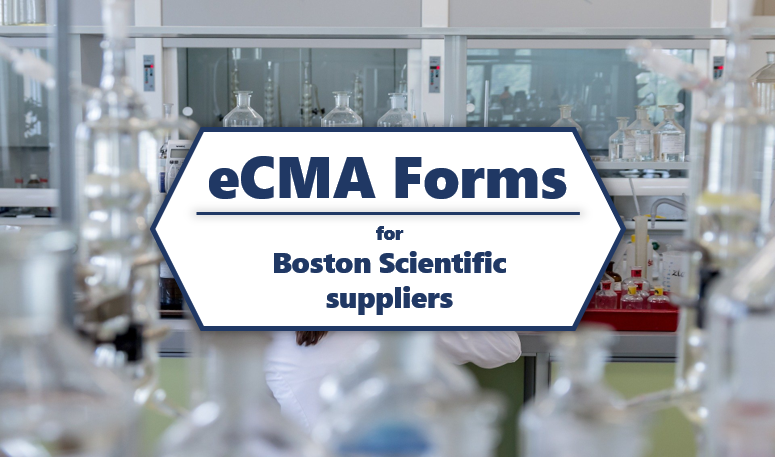 GreenSoft is offering a new solution for suppliers who must submit documentation on material composition and regulation compliance to Boston Scientific.
As part of our Data Services, we provide coverage for:
- Electronic Component Material Assessment (eCMA) Forms
- Full Material Disclosure (FMD) Data
- Conflict Minerals Reporting Templates (CMRT)
We can generate both component-level and product-level FMD data, and transfer that product disclosure data into eCMA format for submission to Boston Scientific's BSC Corporate Supplier Portal. We can also generate CMRT forms for Conflict Minerals submissions.
Boston Scientific is one of the largest medical device manufacturers in the world. The company expects its suppliers to provide disclosure on 100% of the material composition for all supplier parts and components.
Data submitted through Boston Scientific's BSC Corporate Supplier Portal must be in eCMA format. Additionally, Boston Scientific requires its suppliers to provide Conflict Minerals data as well.
GreenSoft takes care of collecting this data and preparing it in the correct formats for you so that you can focus on producing and selling your products.
We can help you establish your FMD database, which is not only required by Boston Scientific, but it is also the best practice to reduce your burden of providing updated compliance declarations to customers when regulations are changed.