July 16, 2018 | Written by GreenSoft Technology, Inc.
Green Compliance 201 Webinar Available On-Demand

View the Green Compliance 201: Best Practices for Complying with EU REACH, RoHS, CA Prop 65 and Other Global Regulations Webinar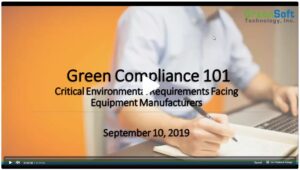 On July 10, we hosted part 2 of our Green Compliance webinar series. Green Compliance 201 covered the best practices for compliance with global regulations such as EU REACH, RoHS, CA Prop 65 and more.
This webinar expanded on our popular Green Compliance 101 webinar held in May. You can view both webinars online in our Webinar Archive.
Green Compliance 201 covered a range of topics including:
Establishing a product compliance plan
Types of compliance documents
Data collection strategies
Resolving fabricated (drawing based) parts
EN 50581 and its requirements
Strategies for reducing sustaining costs
We'll be hosting more webinars in the future. Sign up to be notified when registration opens for our next webinar.
To learn more about the compliance solutions discussed in the webinar, contact us online or call +1-323-254-5961 to receive a personalized recommendation on how GreenSoft can help your company with environmental product compliance.