GreenData Manager (GDM) Software
June 29, 2018 | Written by GreenSoft Technology, Inc.
GDM-EM: Environmental Compliance and Project Management Tool Now Available for Wide Release

GreenSoft's GreenData Manager Escalation Manager Project Management Tool is Now Available for Wide Release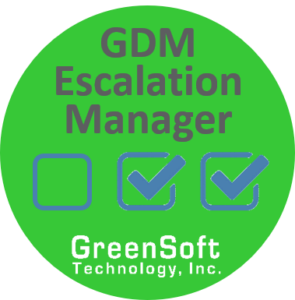 GreenData Manager Escalation Manager (GDM-EM) is a cloud-based project management tool that enables communication between your engineers and GreenSoft's engineers to manage escalated issues on your product compliance project.
GreenSoft has offered GDM-EM to few select customers for over a year, and we are excited to announce that GDM-EM is now available for wide release.
GDM-EM promotes the completeness of data collection and speeds up the time for resolving escalated issues by providing a centralized project management hub.
When you have multiple team members working on your project, GDM-EM makes it easy to share work, manage tasks, and resolve project issues.
GDM-EM compliments Hosted GDM and GDM Browser Edition of GreenSoft's award-winning GreenData Manager software and GreenSoft's data collection and validation services.
GDM-EM provides:
Access for multiple concurrent users with secure login ID and password.
Email notifications when new issues are posted at the Escalation Manager database.
Workflow based processing –workflow token is circulated between GreenSoft engineers and your engineers until the issues are resolved.
Quick access to escalated issues based on escalated categories or other criteria such as manufacturer name, manufacturer part number, etc.
Ability to assign issues to users and change assignments until the task is resolved.
Bulk resolution abilities for issues from the same category or the same manufacturer.
Ability to save reference documents and assign them to escalated issues.
Existing GreenSoft customers can contact their Project Manager to learn more about GDM-EM. For those who are not yet GreenSoft customers, contact us online to learn more or call +1-323-254-5961 today!