U.S. Toxic Substances Control Act (TSCA)
May 12, 2020 | Written by GreenSoft Technology, Inc.
EPA Examining Article Exemptions to the TSCA

EPA Considering Exempting Articles from Fee Obligations due to Implementation Challenges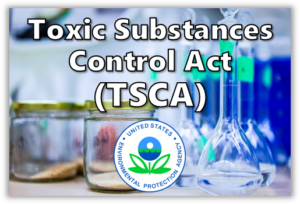 On March 25, the US Environmental Protection Agency (EPA) announced it would consider potential exemptions to the Toxic Substances Control Act (TSCA) Fees Rule for chemicals contained in articles.
In response to concerns expressed by stakeholders about implementation challenges, the EPA plans to initiate a new rulemaking process to consider proposing exemptions to the Fees Rule self-identification requirements associated with EPA-initiated risk evaluations for manufacturers that:
Import the chemical substance in an article;
Produce the chemical substance as a byproduct; and
Produce or import the chemical substance as an impurity.
The EPA intends to issue proposed amendments to the current fees rule later this year with the goal of finalizing the amendments in 2021.
Read the March 25 notice from the EPA online.
20 High-Priority Chemicals Subject to Fee Obligations
In order to prevent the risk of injury to health or the environment, the TSCA requires testing of chemicals where risks or exposures of concern are found. For EPA-initiated risk evaluations under Section 6 of the TSCA, manufacturers (including importers) of high-priority chemical substances undergoing risk evaluations are required to pay evaluation fees per the TSCA Fees Rule.
On January 27, 2020, the EPA released a preliminary list of 20 chemicals designated as high-priority substances for risk evaluation. The list is available for comment until May 27, 2020 online.
The EPA's March 25 announcement that it will consider fee burden exemptions for these 20 high-priority chemicals when used in articles comes in response to comments submitted by stakeholders.
Additionally, the EPA issued a "No Action Assurance" for three categories of manufacturers subject to TSCA fee requirements for the 20 ongoing EPA-initiated risk evaluations. The No Action Assurance establishes that the EPA will not pursue any enforcement action for self-reporting obligation violations by manufacturers while the exemptions are being considered.
More information about the No Action Assurance can be found online.
GreenSoft provides Data Services and GreenData Manager software to help with environmental regulation compliance. Learn more or contact us to receive a free Risk Analysis and BOM Scrub.