California Proposition 65
November 10, 2017 | Written by GreenSoft Technology, Inc.
Three Chemicals Added to the CA Prop 65 Substances List

OEHHA Adds 3 Substances to the List of Chemicals Known to Cause Cancer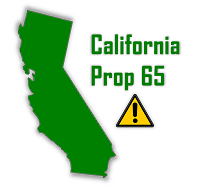 The California Environmental Protection Agency's Office of Environmental Health Hazard Assessment (OEHHA) has added three chemicals to the list of substances known to the state to cause cancer under the Safe Drinking Water and Toxic Enforcement Act of 1986 (Proposition 65).
The addition of these three substances is effective October 27, 2017. Affected companies under Prop 65 are required to warn customers of potential exposure to substances which cause cancer or reproductive harm. All three of the newly added substances were determined by OEHHA to cause cancer.
The three substances are:
N,N-Dimethylformamide (CAS No. 68-12-2)
2‑Mercaptobenzothiazole (CAS No. 149-30-4)
Tetrabromobisphenol A (TBBPA) (CAS No. 79-94-7)
OEHHA's news release on these additions can be found online here. The last prior update to CA Prop 65 was in January 2017.
GreenSoft provides data services for CA Prop 65 and our GreenData Manager software includes CA Prop 65 as one of the regulations built into the software. Contact us to learn more about how we can help your company comply with CA Prop 65.