March 18, 2022 | Written by GreenSoft Technology, Inc.
Regulatory Update for Electronics Producers 2022 Webinar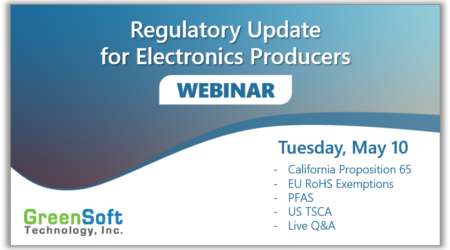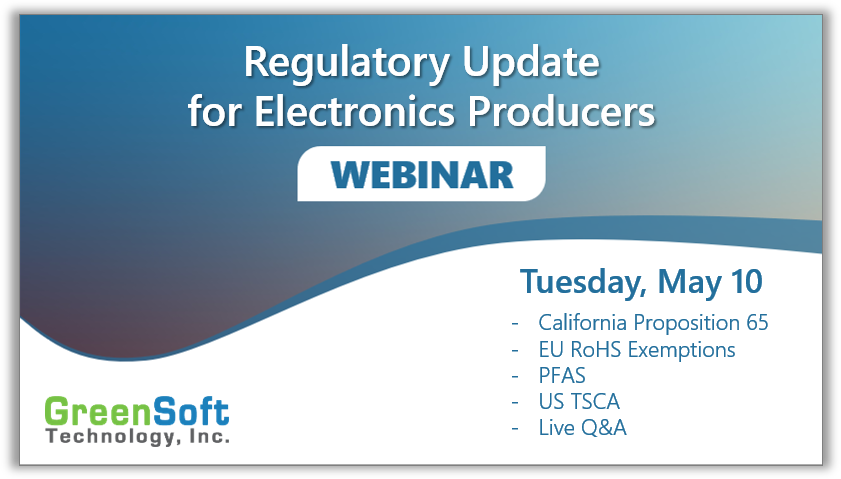 Get the latest updates on critical regulations for manufacturers

Multiple changes are in the works for regulations affecting electronics producers.
During this educational webinar, host Randy Flinders, Compliance Specialist for GreenSoft Technology, will give you all the latest updates including:
California Proposition 65: Proposed short-form warning label changes
EU RoHS: Exemption renewal updates for common exemptions such as 6c, 7a, 7c1
PFAS: A summary of global activity concerning PFAS "forever chemicals"
TSCA: The latest status of the US EPA's Toxic Substances Control Act (TSCA) PBT restrictions
And other regulatory updates
Plus, you'll get a chance to ask Randy your questions during a live Q&A session.
Don't miss out on this opportunity to learn about the regulatory updates coming in 2022. Register now to save your spot!
Registration
Tuesday, May 10
Two session times available:
Everyone who registers will receive a copy of the webinar recording.