February 6, 2020 | Written by GreenSoft Technology, Inc.
New Automated Material Compliance Management Webinar

Discover how a new automated materials compliance management process can help with EU REACH requirements and more.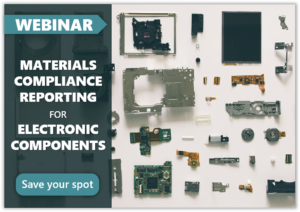 Learn how you can take advantage of an exciting new tool that reduces cost and response times of materials compliance reporting by providing automated tracking of raw materials used to construct components.
You can establish a company level Full Material Declaration (FMD) database, and meet new reporting requirements for the EU REACH SCIP database and the IMDS.
Plus, you can provide your customers with real-time compliance data right from your company website or web portal.
Register now for this free webinar to discover how!
Wednesday, March 11
2:00pm EDT/11:00am PDT
Register now!