February 4, 2020 | Written by GreenSoft Technology, Inc.
Environmental Compliance Regulation Predictions for 2020

Randy Flinders shares his environmental compliance regulatory predictions for 2020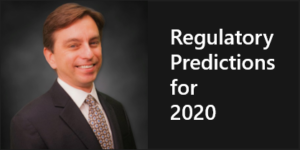 EDACafe recently reached out to GreenSoft's Technical Lead, Randy Flinders, to gain some insight into Randy's thoughts on challenges facing producers of electronic products and components in 2020.
Randy's EDACafe editorial is a call to action for companies who may not be prepared for the explosion in product environmental reporting obligations he is predicting companies will begin to face in 2020.
"……the expansion of RoHS requirements globally, the establishment of the far-reaching SCIP database, and the ever-expanding sea of California bounty-hunter law firms looking for Prop 65 violations are all coming together into the perfect storm……"
When asked to comment on his predictions, Randy was quick to note the editorial only scratches the surface of this trend. "The EDACafe editorial mentions only some of the key requirements which are either expected to emerge or expand in 2020. For example, the current efforts in the automotive industry to improve the accuracy and quality of substance data loaded into the IMDS database will impact electronic component and assembly suppliers. These companies cannot afford to be left behind as the industry expands its data reporting requirements. Like it or not, they will be forced to react."
Read the full editorial with Randy's complete insight and predictions here.
Plus, be sure to register to attend the upcoming "Materials Compliance Reporting for Electronic Components in 2020 and Beyond" hosted by Randy. Or view a recording of one of the many educational webinars that Randy has hosted in our Webinar Archive.