October 17, 2017 | Written by GreenSoft Technology, Inc.
Learn about EU REACH in Boston this November

GreenSoft Presenting at SPCE/IEEE Symposium on Product Compliance Engineering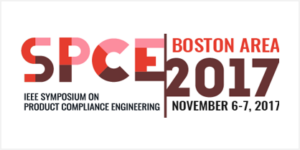 Join us in Boston this November to hear two sessions on EU REACH compliance by GreenSoft's Senior Manager of Product Support, Randy Flinders.
SPCE Boston is a two-day event with technical presentations and exhibits on product compliance engineering. Randy will be presenting two sessions: EU REACH Overview and Best Practices for REACH Compliance.
Perfect for workers and innovators in the product safety and environmental compliance industries, SPCE is designed to provide a forum for product safety engineers and design engineers to discuss and disseminate technical information related to product safety and compliance.
The EU REACH Overview presentation will provide an overview and news about the EU REACH regulation, including information on compliance with Annexes XIV and XVII and the Substances of Very High Concern (SVHC) Candidate List.
The Best Practices for REACH Compliance presentation will provide detailed information on Annexes XIV and XVII, the SVHC List, and the impacts of changes to the definition of "Article" that were clarified by the European Chemicals Agency (ECHA) earlier this year, as well as practical and cost-effective strategies and solutions for compliance.
Registration is now open for this educational East Coast event. Register online today.
And if you can't make it to Boston, check out our free online webinar: Compliance with EU REACH in 2018. Or visit our other events happening this fall in California and London.