California Proposition 65
May 5, 2016 | Written by GreenSoft Technology, Inc.
Two new substances added to CA Proposition 65 list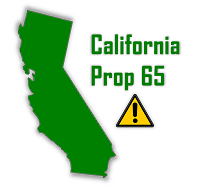 In April, two new substances were added to California's Proposition 65 lists of chemicals known to cause harm.
The substances added to the lists by the Office of Environmental Health Hazard Assessment (OEHHA) are:
abiraterone acetate (CAS No. 154229-18-2) - known to the state to cause reproductive toxicity, and
styrene (CAS No. 100-42-5) - known to the state to cause cancer.
Companies subject to Prop 65 are required to provide a warning before exposing anyone to a listed chemical, and are prohibited from discharging listed chemicals into sources of drinking water.
Prop 65 updates can be found online here.