May 29, 2019 | Written by GreenSoft Technology, Inc.
View the Regulatory Update for Electronics Producers Webinar On-Demand

View a recording of last week's Regulatory Update for Electronics Producers webinar in our webinar archive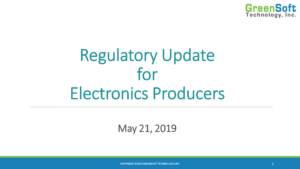 Last week, over 300 people attended our "Regulatory Update for Electronics Producers" webinar. A recording of the webinar is now available to view on-demand in our Webinar Archive.
Hosted by Randy Flinders, this webinar covers what's new and what's changed with regulations such as EU REACH, EU RoHS, CA Prop 65 and others.
Randy provides an overview of recent developments for the regulations as well as detailed explanations of what your company needs to do to ensure you're complying with the latest regulation updates.
Topics include:
New products coming into scope for EU RoHS
Status of EU RoHS Exemption expirations and renewals
Upcoming expansion of REACH SVHC reporting requirements under EU Waste Directive
Latest CA Prop 65 updates and changes
The latest updates on IPC-1752A, IPC-1754, and IEC 62474
A summary on the new UAE RoHS requirements
An update in the emerging Brazil RoHS requirements
You can view a recording of the webinar in our Webinar Archive, and subscribe to our blog to be alerted when our next webinar series is announced.
Learn more about the data services and GreenData Manager software that we provide for compliance with these regulations and others, or contact us to receive a free BOM Scrub/Risk Analysis.