September 23, 2021 | Written by GreenSoft Technology, Inc.
UK RoHS Compliance Date Postponed by UKCA Mark Transition Extension

Companies now have until January 2023 to meet the United Kingdom's UKCA compliance requirements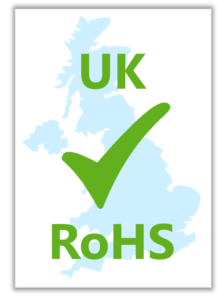 On August 24, the deadline for compliance with the UK Conformity Assessed (UKCA) product compliance requirements, including requirements called out in the UK Restriction of Hazardous Substances (RoHS) regulation, was extended to January 1, 2023. Previously the deadline was January 1, 2022.
Affected businesses will now have an additional year to apply the UKCA product safety marking to applicable products placed on the market in England, Scotland and Wales.
Due to this this deadline extension, products bearing the CE mark will continue to be permitted to be placed on the Great Britain market until January 1, 2023. (Northern Ireland remains aligned with EU CE mark requirements.)
Medical devices, however, will not need to display the UKCA mark until July 1, 2023.
The UKCA mark is intended as a replacement for the CE mark, which was used when the United Kingdom was a member of the European Union. The new UKCA mark covers most goods which previously required the CE mark.
Companies can learn more about the UKCA mark labeling requirements affecting their business on the UK government's website. The deadline extension announcement can be found here.
Learn more about UK RoHS in our free educational webinar
GreenSoft Technology is hosting a webinar on UK RoHS on September 30. Introduction to UK RoHS will provide detailed information on UK RoHS, including:
The UKCA mark requirements
Implementation deadlines
Scope and product categories
Restricted substances and thresholds
Drafting your UKCA Declaration of Conformity
Requirements for Northern Ireland vs Great Britain – what are the differences?
Plus, you'll get a chance to ask host Randy Flinders, Compliance Specialist for GreenSoft Technology, your questions during a live Q&A session. Register now to save your spot.