June 11, 2015 | Written by GreenSoft Technology, Inc.
Smelter or Refiner Validation with GreenSoft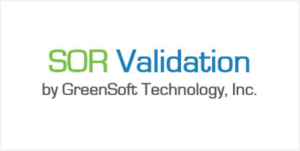 One of your due diligence responsibilities as a manufacturer is to make a reasonable effort to ensure you're using accurate information from your suppliers.
Validating Smelters or Refiners (SORs) provided by your suppliers has become a key aspect in delivering acceptable CMRT forms. Validation includes determining whether a smelter or refiner is conflict-free, a legal entity, or an entity that can trade conflict minerals. GreenSoft leverages lists from private industry and other organizations to determine the validity of SORs. If SORs cannot be validated through authenticated lists, GreenSoft will contact the SORs directly or pressure the suppliers to obtain proof of legitimacy.
GreenSoft offers SOR validation as an optional service for the Conflict Minerals data collection program. Our validation process ensures you're using accurate and complete information without having to go through the hassle yourself.
We've released a detailed description of our validation process on our new website. Check it out here.
When you're ready to let GreenSoft do the leg work of smelter validation for you so you can focus on your core competencies, give us a call at +1-323-254-5961 or email sales@greensofttech.com.