April 25, 2016 | Written by GreenSoft Technology, Inc.
New Events Added: ITI & IPC Conferences on Product Regulations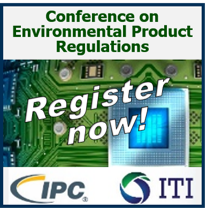 This June we'll be exhibiting at the ITI & IPC Conference on Emerging & Critical Environmental Product Regulations. This 3-day Conference spans over three cities: Boston, the Chicago area, and Silicon Valley.
Hosted by the IPC Association and the Information Technology Industry Council (ITI), this year's conference brings together industry experts such as UK regulators Steve Andrews of the Department for Environment, Food and Rural Affairs (Defra) and Dave Symons of the National Measurement and Regulation Office (NMRO).
Speakers will provide insights on the recent EU Court of Justice decision on the definition of "article" and its impact on EU REACH, new developments for the EU RoHS exemption requests, and the recast and use changes to China RoHS.
GreenSoft will be exhibiting our data services and software solutions for companies that need to comply with the various regulations discussed at the Conference. Stop by our table during the breaks to learn how we can be your helping hand for environmental compliance.
Registration for these informative conferences is still open. Secure your seat today online.
ITI & IPC Conference on Emerging & Critical Environmental Product Regulations

➤ June 06, 2016 – Boston, MA USA
Register Now
➤ June 08, 2016 – Chicago area, IL USA
Register Now
➤ June 10, 2016 – Silicon Valley, CA USA
Register Now