March 16, 2020 | Written by GreenSoft Technology, Inc.
Materials Compliance Management Webinar

New Webinar: Automated Material Compliance Management Process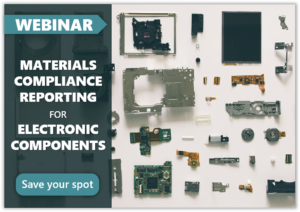 Last week we hosted a webinar providing detailed information and a look into our new software tool to support Full Material Declaration (FMD), EU REACH SCIP Database, and IMDS reporting requirements for component manufacturers.
You can view the video recording of the full webinar on-demand in our Webinar Archive. You can also view a few short clips of the webinar on our YouTube channel.
The webinar goes into detail on the complex challenge faced by component manufacturers as they need to provide their customers with regulatory data even though they themselves do not face the same regulatory requirements.
With component manufacturers supplying parts to customers from multiple industry segments, they must be aware of and provide data for dozens of different regulations across many different industries.
You'll be guided through a list of the various regulatory requirements that your customers are facing, including the new EU REACH SCIP database and IMDS reporting requirements, as well as shown an example compliance validation process flow.
The webinar finishes with a demonstration of GreenSoft's GreenData Manager with Component Disclosure Module software tool which provides an automated process for materials compliance reporting using substance make-up data to generate FMD data to provide to customers.
View the webinar anytime in our Webinar Archive, and learn more about our GreenData Manager with Component Disclosure Module software tool online.