August 5, 2015 | Written by GreenSoft Technology, Inc.
Learn About Smelter or Refiner (SOR) Validation

August 05, 2015|Written by GreenSoft Technology, Inc.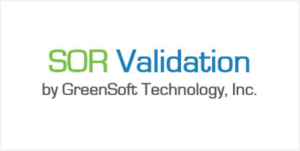 In June, we announced our latest Data Service for Conflict Minerals compliance: Smelter or Refiner (SOR) Validation.
Now we're releasing a detailed data sheet on this service to explain our comprehensive SOR validation process, and how it can release suppliers from the burden of contacting multiple suppliers, sub-suppliers, and even smelters or refiners directly.
In order to validate the compliance status of SORs listed by supplier disclosures in support of the conflict minerals provision of the Dodd-Frank Act, direct contact with suppliers and SORs is required. With language barriers, time zone differences, and frequently unresponsive suppliers, this process can be very time consuming and frustrating for electronics manufactures.
GreenSoft's SOR Validation service will handle the validation for you, including communicating with your supply chain for document gathering and validating the supplied information across databases such as CFSI/CFSP and LBMA/RJC/DMCC.
Our team will review information provided by suppliers to ensure data quality. Your dedicated Project Manager will keep you routinely updated on the project status and deliverables. And if you don't have an existing SOR list prepared, we can create one for you by extracting information from documents provided by your suppliers.
Get the full details from our Smelter or Refiner Validation data sheet. Then contact us to request a demo or quotation. We'll throw in a FREE Risk Analysis for you!