September 26, 2019 | Written by GreenSoft Technology, Inc.
Learn about EU RoHS and EU REACH in Finland

GreenSoft to present on EU RoHS and EU REACH at the Teknologia 19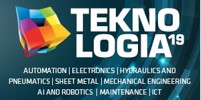 We're heading to Helsinki this November to participate in the Teknologia 19 expo with RoHS Management Oy, our partner in Europe.
Teknologia 19 is a meeting point for industry professionals where innovations and new products can be seen at one time under the same roof. The last Teknologia expo in 2017 had over 14,000 visitors, making Teknologia the largest electronics event in Nordic Countries.
In addition to hands-on exhibitions, the event will also feature seminars, presentations and meetings. Randy Flinders, Senior Manager of Product Support for GreenSoft Technology, and Juhana Jaatinen, CEO of RoHS Management Oy, will both be presenting seminars on EU RoHS and EU REACH.
Don't miss this great European event! Register to attend or learn more online.