October 9, 2019 | Written by GreenSoft Technology, Inc.
Full Q&A with Randy Flinders on the future of environmental compliance

How to Anticipate and Prepare for the fast-moving regulatory landscape.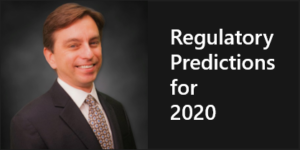 GreenSoft's Senior Manager of Product Support, Randy Flinders, recently shared his thoughts on a range of issues with Chemical Watch.
Randy's interview covered subjects such as the biggest challenges facing the electronics sector, and the evolution of RoHS-like regulations around the world.
Learn what to anticipate and how to prepare for the future of the environmental compliance regulatory landscape, and how you can keep on top of the changes and ensure compliance.
Read the full Q&A interview online.
Randy regularly hosts educational webinars for GreenSoft which often include live Q&A sessions where you can ask Randy your own specific questions, so be sure to check our event schedule or subscribe to our blog to be alerted when the next webinar is scheduled.