GreenData Manager Software
April 24, 2017 | Written by GreenSoft Technology, Inc.
Introducing iGDM: GreenData Manager Component Database Search

GreenSoft Launches iGDM for Real-Time Compliance Status Searches within GreenSoft's Multi-Million Parts Database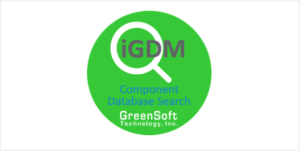 Introducing a new GreenData Manager (GDM) software add-on for searching the compliance status of components: iGDM. Customers can access iGDM online from anywhere with an Internet connection through GDM-Browser Edition or Hosted GDM.
iGDM allows engineering and product design staff to qualify parts for compliance in real-time during the design process. Search for RoHS and REACH SVHC compliance status and see instant results from GreenSoft's iGDM multi-million parts database.
The iGDM parts database is populated with high-quality up-to-date data on millions of parts gathered and validated by GreenSoft's data collection team. Customers are able to search for matches using a single part number or by searching multiple part numbers at once.
iGDM will return search results presenting the number of parts marched or unmatched from your company's own parts database. You can then view the compliance status of unmatched parts using data pulled from GreenSoft's iGDM component database. Parts can be added to the data collection and processing pool for GreenSoft to input the compliance status and compliance documents into the GDM software for you.
Give your engineering and product design team the freedom to make decisions in real-time while complying with your company's environmental health and safety standards with iGDM Component Database Search for GDM-BE and Hosted GDM. Contact us for more information and a demo. Or download the datasheet.