April 2, 2019 | Written by GreenSoft Technology, Inc.
Announcing our Regulatory Update for Electronics Producers Webinar

Registration now open to learn what's new and what's changed with global environmental product regulations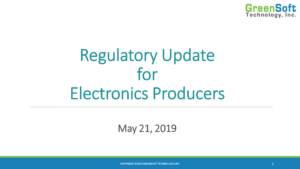 We're excited to announce the next webinar in our ongoing educational webinar series: Regulatory Update for Electronics Producers.
Hosted by Randy Flinders, this webinar will cover what's new and what's changed with regulations such as EU REACH, EU RoHS, CA Prop 65 and others.
Randy will review the latest developments for the regulations and provide detailed examples and explanations of what your company needs to do to ensure you're complying with the latest versions of the regulations.
The webinar will cover:
Plus...
A summary on the new UAE RoHS requirements, and
An update in the emerging Brazil RoHS requirements.
Anyone who deals with product compliance at their company is encouraged to attend. Quality managers, engineers, purchasers, product managers and upper management at electronics manufacturers and other product manufacturers or distributors will benefit from attending.
We will be holding two sessions of the webinar on Tuesday, May 21st. Space is limited, so reserve your seat today: Register Now