May 10, 2022 | Written by GreenSoft Technology, Inc.
Watch on Demand: SCIP Lessons Learned Webinar

New SCIP Database Webinar Added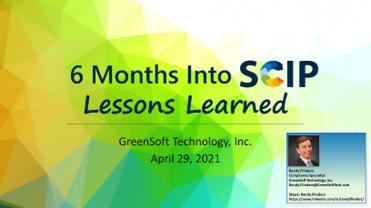 Randy Flinders, Compliance Specialist for GreenSoft Technology, recently hosted a webinar on the EU SCIP Database online portal.
It has now been 6 months since the SCIP Database online portal was launched by the European Chemicals Agency (ECHA), and in that time we've worked through various struggles with collecting, preparing and submitting data to the portal.
In the webinar, Randy explains the lessons we've learned since the launch of the SCIP Database portal, including:
How to create an account
How to generate an S2S Key
Best practices for grouping products into one SCIP notification
Complying with "Once-an-Article" requirements when making SCIP notifications
Common supplier SCIP data gaps and how to address them
What information will be available to the public
Common mistakes to avoid
A recording of the webinar is now available to view in our Webinar Archive. Check it out, and be sure to visit our website to learn more about our SCIP Database solution.