July 13, 2021 | Written by GreenSoft Technology, Inc.
Watch on Demand: Regulatory Updates Webinar

Regulatory Updates Made to US TSCA, MDR, RoHS Exemptions, and California Prop 65.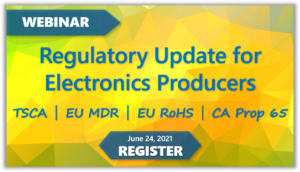 Randy Flinders, Compliance Specialist for GreenSoft Technology, recently hosted a webinar reviewing changes and updates to four environmental regulations affecting electronics producers.
A recording of the webinar is now available to view on-demand in our Webinar Archive.
In the webinar, you'll learn the latest status of critical regulations facing producers of electronic equipment, including:
Plus, you'll be able to hear Randy's answers to questions asked by attendees in the webinar.
And as an added bonus, we've made the Q&A and Resources document sent to attendees available for the public to download in our Webinar Archive. This valuable document provides links to regulatory texts and resources which can be used to support your environmental compliance projects.
Check out the webinar recording and download the Q&A and Resources in our Webinar Archive.