IEEE Technical Organization
October 30, 2018 | Written by GreenSoft Technology, Inc.
GreenSoft's Senior Product Support Manager Named Senior Member of the IEEE

Congratulations to GreenSoft's Randy Flinders for being named a Senior Member of the IEEE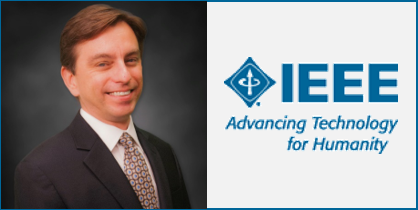 We are pleased to announce that Randy Flinders, Senior Manager of Product Support for GreenSoft, has been recognized as a Senior Member of the IEEE for 2018.
IEEE is the world's largest technical professional organization dedicated to advancing technology for the benefit of humanity. With more than 400,000 members in over 160 countries, IEEE is a trusted voice for engineering, computing, and technology information around the globe. Randy has been a member of IEEE for 22 years.
Senior Member is the highest professional grade of the IEEE for which a member may apply. It requires extensive experience, and reflects professional accomplishment and maturity. Only 10% of our more than 400,000 members have achieved this level.
Randy provides regulatory guidance to GreenSoft and GreenSoft customers, and is the presenter for GreenSoft's educational webinars. This latest recognition by IEEE comes in addition to Randy's other accomplishments, such as the Distinguished Committee Service Award from IPC, and recognition for his work with the IEEE Electromagnetic Compatibility society and IEEE Product Safety Society.