October 8, 2021 | Written by GreenSoft Technology, Inc.
Watch on Demand: UK RoHS Webinar

GreenSoft Technology Invites You To View the UK RoHS Educational Webinar!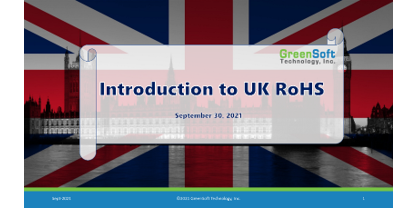 On September 30, GreenSoft Technology hosted an educational webinar on the UK RoHS regulations.
Introduction to UK RoHS is now available to view on-demand in our Webinar Archive.
Learn everything you need to know about the UK's recently amended RoHS Regulations, which take effect in January 2023.
Tailored specifically for electronics manufacturers, this webinar provides detailed information on UK RoHS, including:
The UKCA mark – UK's version of the EU's CE Mark
Implementation deadlines
Scope and product categories
Restricted substances and thresholds
Exemptions – what are the differences between EU RoHS and UK RoHS?
Drafting your UKCA Declaration of Conformity
Requirements for Northern Ireland vs Great Britain – what are the differences?
Plus, we've compiled a Q&A and Resources document providing answers to questions asked by attendees during the webinar, as well as useful links to regulatory documentation.
You can access the Q&A and Resources document to download and view the webinar recording in our Webinar Archive.